PATTERSON PARK NEWS
The permit for the basketball shade structure was approved faster than expected and installation is planned for the week of April 17. Hurray! Note: A tree will be removed at one corner of the court to make room for the structure, and we will plant replacements in the fall.

Save the date for a ribbon cutting ceremony and celebration with the Neighborhood Partnering Program and Public Works Department to mark the completion of this grant funded project on June 10th!

Cement is being poured for the new tennis courts in the
Pharr Tennis Center renovation, and the updated estimate is that the project will be finished this summer. We had so much fun at It's My Park Day and the Amplify Ice Cream Party! Thanks again to all the volunteers and supporters for all you do!

UPCOMING EVENTS AT PATTERSON PARK
Thursday, April 5
EGG STUFFING MEETUP
Bobo's Snack Bar, 8–9pm

We have several hundred eggs left to stuff before the egg hunt, and it's more fun with company and adult beverages. Volunteers are also needed to set up at 9am on Saturday!

Saturday, April 8 7th
ANNUAL PATTERSON PARK EASTER EGG HUNT
Small pavilion, 10am-12noon

The 7th annual Patterson Park Easter Egg Hunt will be on Saturday, April 8 at 10 a.m sharp! We will meet at the small pavilion by the basketball court and community garden to hunt for eggs, smash cascarónes and enjoy a potluck brunch in our beautiful neighborhood park.

Wondering what you can bring on Saturday morning? Extra chocolate eggs, cascarónes, OJ, fruit salad, pan dulce, muffins, breakfast tacos or other brunchy food to share. We'll have coffee, water and lemonade. The egg hunt starts at 10 a.m. on the dot, and is over in just a few minutes so please be early! We will have separate search areas for the toddlers, 4-10, and 11+. Please note: parents are not allowed on the field unless they're with a toddler. Happy hunting!

For updates RSVP on Facebook. Rain date: April 15, 10am.

Saturday, April 15
KEEP AUSTIN BEAUTIFUL DAY
Boggy Creek, 9-11am

There are three creek cleanups happening in the neighborhood, and the branches of Boggy Creek around Patterson could sure use some TLC! Register with Keep Austin Beautiful to volunteer at Cherrywood Green, Willowbrook Reach "North Boggy Creek Greenbelt Cleanup" here or for Wilshire Wood's cleanup here.

Saturday, May 27
PLAYDATE IN THE PARK AT PATTERSON NEIGHBORHOOD PARK
Playground, 10am

Join the Austin Parks Foundation for their Playdates in the Park series this spring. Enjoy story time, make crafts, and move and groove Creative Action.Music & Movement sessions are active and designed to inspire creativity, encourage physical and emotional development, and support bonding and connection for parents and children. Classes contain singing, beatboxing, guided movement exercises, and end in a dance party for the whole family! For more info, RSVP on Facebook.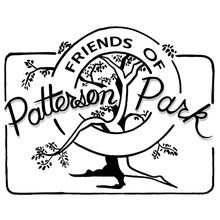 Jennifer Potter-Miller and Emma Ruble, Co-Chairs
Friends of Patterson Park
https://friendsofpattersonpark.org.